Purified Water
Producing high quality drinking water is what Ripples Bottled Water is all about. By doing so, we use a process called Reverse Osmosis or R.O., to remove up to 99% of contaminates that may be present in the water, leaving us with pure water – as pure as it gets. Reverse Osmosis is the most updated method of water purification , and is the heart of our 5 stage purification system. In the final stage of processing we add Ozone for sterilization, then bottle into sterilized 3 gal. (11.3L) and 5 gal. (18.9L) bottles. Unlike other processes, R.O. water still contains high levels of oxygen – so, the water has no flat taste.
Bottles
At Ripples, we know the importance of using a clean sterilized bottle for your water. Each bottle is pre inspected before entering our bottle washer where it is washed, sanitized, and final rinsed with purified ozonated water to ensure the bottle is as clean as the water going into it.
Once cleaned, the bottle is immediately filled, capped and ready to be delivered for you to enjoy.
We also carry BPA free bottles to give you more choices.
Bottled Water Dispensers
Ripples offers high quality, easy-to-use water coolers equipped with a non-spill sealed top, eliminating any water spills and providing a more hygienically safe environment for your drinking water.
With a variety of models to choose from, we make it easy to fill your needs. Our flexible, low cost rental rates also takes the worry out of any repairs , cleaning or maintenance that your cooler may require.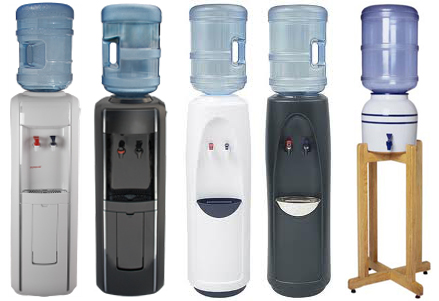 Accessories
We carry many accessories, from pumps for camping, to shower filters for chlorine removal.

Water fact: Water helps transport disease fighting cells through the bloodstream